Chase the words.
2008.08.27 Wednesday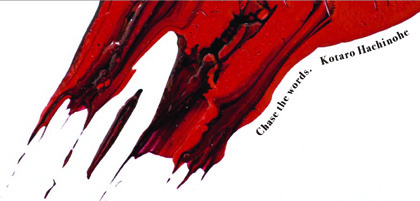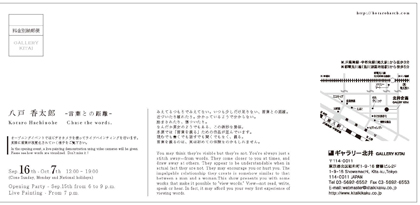 八戸 香太郎 -Chase the words.-
Sep.16th - Oct.7th 2008
From 12:00 to 19:00
(Close Sunday, Monday and National holidays.)
Opening Party - Sep.15th from 6 to 9 p.m.
Live Painting from 7 p.m.
In the opening event, a live painting demonstration using video cameras will be given. Please see how words are visualized. Don't miss it!!
会期:2008年9月16日(火)〜10月7日(火)
時間:12:00〜19:00(休廊日:日・月・祝日)
オープニングパーティー:2008年9月15日(月)18:00 - 21:00
ライブペインティング:2008年9月15日(月)19:00〜
オープニングイベントではビデオカメラを使ったライブペインティングを行います。実際に言葉が視覚化されていく様子をご覧下さい。
You may think they're visible but they're not. You're always just a stitch away - from words. They come closer to you at times, and draw away at others. They appear to be understandable when in actual fact they are not. They may encourage you or hurt you. The impalpable relationship they create is somehow similar to that between a man and a woman. This show present you with some works that make it possible to "view words." View - not read, write, speak or hear. In fact, it may afford you your very first experience of viewing words.
言葉は、いつも、少しだけ遠い。
互いの理解によって成り立っていると信じて疑わない我々の言葉は、実は物事の一部を照らしているにすぎない。伝わってるのはいつも発する側だけであり、受信側は恣意的に情報を受け取っている。
言葉は、所詮言葉である。
だがその言葉は、時に人を暴力的に破壊し、時に菩薩のように優しく包み込む力を持つ。我々は実体のない言葉によって、傷つけられたり、救われたりしているのだ。
言葉は重く、そして軽い。
そんな言葉を我々はあまりに簡単に扱い、また過信しているのではないだろうか。言葉は近づきすぎても、遠すぎても、みえてこない。
このプロジェクトでは目に見えない言葉を視覚化している。文字の現場。書くのは文字、そして文字は言葉をつくる。言葉がつくられていった様子を観ることによって、言葉とどのような距離でつき合っていくべきなのか、それぞれが適正距離な距離を測ってほしいと思う。
書くでも読むでも話すでも聞くでもない、言葉を「観る事」プロジェクト。
私の筆はいつも言葉の先を探っている。
Gallery KITAI
東京都北区昭和町1-9-16齋藤ビル2F
1-9-16 Showamachi, Kita-ku, Tokyo
Tel: 03-5692-6552
Fax: 03-5692-6553
Email: webmaster@kitaikikaku.co.jp
http://www.kitaikikaku.co.jp