solo exhibition【WORDS TREE】at London.
2007.04.12 Thursday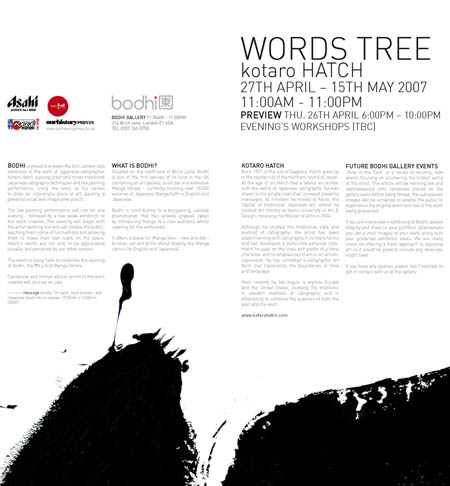 Venue: BODHI gallery 214 Brick Lane London E1 6SA
Dates: April 27th ? May 15th 2007 (Opening Party on April 26th)
This project is the first installation of its kind, about utterances expressed through contemporary Japanese calligraphy. HATCH's radical approach, an impromptu combination of self-written poems and utterances in the Cafe, aim to highlight our casual and often careless disposition of something so vital to our daily lives. Born in Hokkaido, Japan, the purity and self-renewal properties of nature are his source of inspiration. Using the walls as his canvas, his writings take on the form of trees growing over the course of the exhibition eventually forming a forest. The final outcome is a spontaneous collaboration between him, the utterances of unaware participants (Cafe's customers) as well as music specially composed for this exhibition. HATCH invites you to explore and experience this new and modern approach to the age-old tradition of Japanese calligraphy.
Translating by Kevin Yeo
このプロジェクトでは「ことばの価値を映し出す装置」としての「書」を試みています。「ことば」を積極的にビジュアル化する事によって「ことば」の重みや勢いを直接感じ取ってもらおうという企画です。従って書いてある文字を読む必要はありません。感じ取る事が重要なのです。会場はカフェとギャラリーが一体となっている場所です。今回はその場所で交わされる「会話」と故郷・北海道の自然からインスパイヤーされ、創作した「詩」を織り交ぜ、即興で会場の壁全体に書き込んでいきます。それは訪れる人達との「予期しない共同作業」ともいえるでしょう。またそのかたちは「ことばの木々」というモチーフを持ち、時間が経つにつれリアルタイムに成長していきます。つまり会期中も「ことば」がどんどん壁に定着していくわけです。そして最後には「ことばの森」が生まれます。清々しく開放的な森になるか、圧迫感のある息苦しい森になるかはそこにいる人々の会話次第。最後に完成した「ことばの森」がどのような姿になるか、まだ誰も体験したことのない「書」の試みがはじまります。
Written by kotaro HATCH