Workshop and Performance in Osaka, Japan.
2010.01.15 Friday
Workshop and Performance in Osaka, Japan.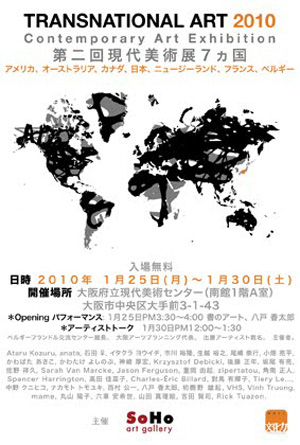 【TRANSNATIONAL ART 2010】
From Monday, January 25, 2010 at 12:00pm
To Saturday, January 30, 2010 at 3:00pm
Osaka Contemporary Art Centre, Gallery A
Street:
3-1-43 Otemae, Chuo-ku
Transnational Art 2010 is a contemporary art exhibition gathering 38 talented artists from around Japan and around the world at the Osaka Contemporary Art Centre. The show is curated by Celio Barreto and Yachiyo Nakao, owners of SoHo Art Gallery and features works in a wide array of media, from oil paintings to video installations and performance art.
Included in the program are an Opening Performance by renown artist Kotaro Hatch on the first day, and an artist talk on Saturday Jan 30th, featuring presentations by participating artists and very special guests from the Flanders Center and Osaka Arts Planning.
TA2010 showcases artists whose movement between geographical and cultural points influence their work to function as both windows and mirrors, allowing us to see into their worlds and reflecting the world around them.
■会期:2010年1月25日(月)から1月30日(土)
■時間:午後12時から午後6時まで
■オープニングイベント:1月25日(月)午後3時半より現代書道家・八戸香太郎による巨大筆パフォーマンス
■場所:大坂府立現代美術センター(南館1F, A室) 大阪市中央区大手前3-1-43
詳しくはコチラ↓↓
http://transart2010.blogspot.com/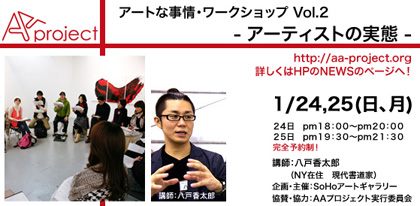 【アートな事情・ワークショップVol.2-アーティストの実態】
SoHoプレゼンツ企画、アーティストに朗報!! 前回好評だったワークショップの第2弾が実現します。今回はアーティストや海外のアート事情を知りたいと思っているアート愛好者に向けて、更にリアルな情報を提供していきます。世界を駆け巡り活躍中の現代書道家・八戸香太郎さんをゲストスピーカーに、海外で個展を開く迄の経緯や注意点など、誰にも聞けない、でも今知りたい旬なアート情報が満載です!
●日時:
2010年1月24日(日) pm18:00〜pm20:00
2010年1月25日(月) pm19:30〜pm21:30
*内容は二回とも同じです。ご都合に合わせてご参加下さい。
●場所:SoHoアートギャラリー(大阪市天王寺区生玉町9−18)
●アクセス:地下鉄谷町線「谷町9丁目駅」3番出口西へ徒歩2分/地下鉄堺筋線又は近鉄線「日本橋駅」8番出口東へ徒歩約10分/近鉄線「上本町駅」西へ徒歩約7分。
●参加費:3,000円(学生割引 2,000円)各回定員20名 
*完全予約制です!定員になり次第、締め切らせて頂きます。
●お申し込み・お問い合わせはSoHoアートギャラリー・TEL又はEメールで受け付けております。
06−4394−7456・soho_galleryjp@yahoo.com
企画・主催:
SoHoアートギャラリー
協力:
AAプロジェクト実行委員会
*AAプロジェクトHP内にも本ワークショップの基本的な内容が記載されています。事前にチェックして、分からない事やもっと知りたい事をワークショップで質問しましょう!
*TRANSNATIONAL ART 2010 Press Release 2010.1
2010.1.25 - 1.30
TRANSNATIONAL ART 2010
We are happy to announce the upcoming contemporary art group exhibition organized by SoHo Art Gallery of Osaka to take place at the Osaka Contemporary Art Centre's Exhibition Room A, from January 25th to January 30th, 2010.
This special exhibition features new graphic, painting, sculpture, installation, multimedia and performance art works by 38 emerging and established artists from Australia, Belgium, Canada, France, Japan, New Zealand and The U.S., who're often living and working between their home countries and Osaka.
The goal of this exhibition is to present the public with a comprehensive collection of unique new works addressing issues in contemporary art by artists working or living in a transnational context.
Featured artists:
anata, Seishi ISHIDA, Youichi ITAKURA, Hirotaka ICHIKAWA, Ryohei OBATA, Takayuki OSHIMA, Hiroyuki OGOSHI, Tiery Le... (France), Yoshinobu KAWATAKE, Akiko KAWABATA, Atsuhiro KANZAKI, Ataru KOZORU, Masatoshi GOTO, Yusuke SAKAO, Yoshihisa SANO, Yuki SHIGEOKA, Masato SUNAMI, zipertatou (Canada), Kanako TAKADA, Sanae TAMURA, Rick TUAZON (U.S.A.), Yukiko TSUSHIMA, Vinh TRUONG (Canada), Krzysztof DEBICKI (Canada), Kunihiko NAKANO, Tomoyuki NAKAMOTO, Kouichi NISHIMURA, Kotaro HACHINOHE, Yuuki HATSUKANO, Charles-Éric BILLARD (Canada), VHS, Jason FERGUSON (Australia), Sarah VAN MARCKE (Belgium), Yoko MARUYAMA, Akiyo MUGURUMA, Marie YAMADA, Kenji YOSHIDA and RANDOM (New Zealand).
Contemporary Art on display: Paintings (Oils, acrylics, mixed media), Drawings (Color pencils, pen and ink), Installation, Prints (silkscreen), Performance (Live Painting), Interactive Video Installations, Video Projections, Sculpture (Stone, glass, resin and ceramics) and 2D and 3D Photography.
Admission: Free
Opening Performance by Kotaro Hatch ( http://www.kotarohatch.com ):
Monday January 25th from 3:30 p.m. to 4:00 p.m., in gallery A.
Art Talk:
Saturday January 30th from 12:00 p.m. to 1:30 p.m. featuring guest speakers Bernard Catryss, Director of the Flanders Center, Masakatsu Nishino, President of Osaka Arts Planning, Celio H. Barreto, Owner/Creative Director SoHo Art Gallery and a selection of participating artists (TBA)
Exhibition dates and times:
Monday Jan. 25th: 12:00 p.m. to 6:00 p.m.
Tuesday January 26th to Friday Jan. 29th: 10:00 a.m.-6:00 p.m.
Saturday Jan. 30th: 10:00 a.m.-3:00 p.m.
The Osaka Contemporary Art Center is located in the New Annex North & South, 3-1-43 Otemae, Chuo-ku, Osaka 540-0008, Japan
Directions:
- Tanimachi Subway Line: Get off at Tanimachi 4-chome Station, and take exit No. 1-A.
The centre is a 3 minute walk away.
- Keihan Temmabashi Station: Take the East Exit ad walk 10 minutes southbound.
For more information please call 06-4394-7456 during regular business hours or visit: http://transart2010.blogspot.com
Curated by: SoHo Art Gallery ( Celio Barreto and Yachiyo Nakao )
Supported by: Flanders Center, Osaka Arts Planning, Holbein Art Materials Inc.
Under the auspices of: Osaka Contemporary Art Center and the Kansai Agency for Cultural Affairs 'Power of Culture' iniciative.